Throttleville
is a park in Thrillville Stunts, the first park you will face in Thrillville: Off the Rails. It is based on the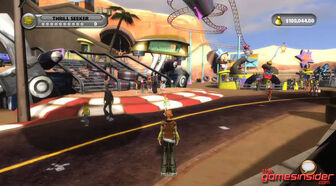 world of racing. The path looks like a speedway and as you walk in, there are dune buggies racing around a track around the park. A giant animatronic monster truck leaps out from a cave and lands on several junk cars, crushing them and then speeds off. Some of the attractions that are already there are a Hotrod Stunt pre-built coaster titled "Final Lap" That ends in a crash and one of the missions are to finish the coaster. Another mission is to place a dune buggy track. The selection of rides and attraction to choose from is full of selections that best suit the theme of Throttleville, including the Stunt Rider arcade game, and the Hotrod Stunt Coaster.
Pre-built Attractions
Edit
Final Lap (Hotrod Stunt Coaster)
Stunt Rider-Arcade Game
Sideshow: Test Your Strength-Sideshow Game
Fizzy Drink Stall-place to buy drinks
Music That Plays In The Park
Edit
"East Northumberland High"-Miley Cyrus
"Off the Rails"-Mozingo
"Do What You Want"-Ok Go
"I'm For You"-Toby Mac
"The Critic Song"-Al Lindsay
"Right Where You Want Me"-Jesse McCartney
Ad blocker interference detected!
Wikia is a free-to-use site that makes money from advertising. We have a modified experience for viewers using ad blockers

Wikia is not accessible if you've made further modifications. Remove the custom ad blocker rule(s) and the page will load as expected.