Saddleville
is a subpark of
Thrillville Stunts
. It is themed after the Old West and has a few attractions already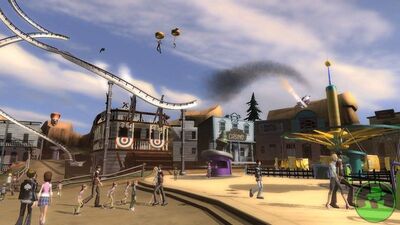 built, including a nifty wild-western mini-golf course and Bandito Chinchilla. Some missions aimed at this park are that you have to play Prospector Putt Mini-Golf and beat in less than a set goal of minutes. Another is to play Bandito Chinchilla. There is an old-timey church in the middle of a graveyard on a hill and a old covered wagon bustles around a canyon track. One of the build sites looks like a mine and there is even a tunnel, hidden behind the coaster site (Not the one with the big boat.). One of the build sites is a western store lined street with a saloon and a post office, and other western buildings. There are three build sites and two coaster stations (as always). There are many rides and attractions to choose from that suit the theme of Saddleville, such as Sideshow: Bucking Bull, Bandito Chinchilla, Prospector Stakeout, Shootzone: Wild Frontier, and the Wagon Trail coaster.
Pre-Built Attractions
Edit
"Maureen"-Fountains of Wayne
"The Ballad of Bandito Chinchilla"-Mozingo
"Potential Break-Up Song"-Aly & AJ
"Any Sound"- The Vines
"The Littlest Cowboy Rides Again"-Chris LeDoux
Ad blocker interference detected!
Wikia is a free-to-use site that makes money from advertising. We have a modified experience for viewers using ad blockers

Wikia is not accessible if you've made further modifications. Remove the custom ad blocker rule(s) and the page will load as expected.